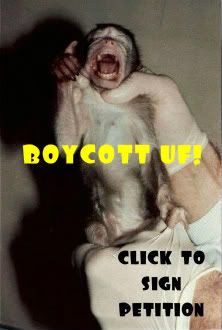 by NIO Florida
I. Summary of today's activities
In our continuing efforts to squash applications to UF in the fall, the implementation of this campaign got off to a modest but strong start today. Activists in a number of states met with high school students who were on spring break this week. One of our members is working with a high school art teacher as well. The students were given a supply of flyers to distribute within their schools starting next week. We were given the personal email addresses for members of student body groups such as student governments and year book committees.
II. Success depends on the continue recruitment of high school students
Every activist with teenagers has the access that we need. We urge you to enlist your children's help. We further urge you to secure contact information for the student body in the form of school directories, online forums, or by any means your local school may offer. Members involved in today's action will be sending the following letter to their student list. We encourage everyone to use this recruitment tool freely:
Dear Prospective College Student:
As you look toward applying to universities this fall and taking the first step toward an exciting future, you need to be aware that there is currently a global boycott of applications to the University of Florida. Please consider how this issue may impact your future and commit to a personal boycott of UF.
For 14 months, the University of Florida fought to keep public records out of the hands of the community. In October of 2010, a duly-registered Freedom of Information Act request was delivered to them and they declined to satisfy their legal obligation. They remained in noncompliance with Florida state law until activists won a lawsuit against them on December 30, 2011 and the Honorable Judge Martha Ann Lott ordered them to hand over the records.
The public soon learned why UF fought disclosure so vehemently. The records revealed that they are engaged in conducting barbaric experiments on monkeys for political purposes, to secure funding from benefactors, to satisfy contracts, and a host of other economic reasons. The simple fact, however, is that monkeys are imprisoned for up to two decades, terrorized daily, and the experiments serve no scientific purpose whatsoever. The records may all be examined here as they are made available for scrutiny.
Alumni have begun to issue public denouncements of their alma mater. Activists went back to court on February 27, 2012 to petition the Court to compel disclosure of further information that UF is withholding. An institution of higher learning with an aversion to transparency promises to be mired in lawsuits and controversy for the duration of your college career.
Please consider joining the global boycott of applications, and, thus, admissions, to UF until they permanently shut down their primate experimentation program.
Additionally, please consider promoting this initiative within your own school.
We look forward to talking with you further and wish you success in all of your future endeavors.
Sincerely
III. Success will depend on how much we want it
To the best of our knowledge, no university has ever had to contend with activists attacking and eroding their tuition revenue. Until UF liberates the monkeys, we can and will mar their once-pristine reputation, but that's not enough. We must learn to efficiently reach into their wallet. This will take focus, determination, and consistency. But this is not something we can do alone.
Leafleting strangers will never change minds and behaviors. We need to penetrate schools and cultivate networks such as activists were able to do today. We need students to pick up the mantle for us and run with it. This means that we need to identify those who can be groomed into activists. The only way to promote our agenda in from the inside of high schools. Fortunately, many in our circle have children through whom we are implementing this campaign. But we need to recruit more students and we need to get our young NIO activists as much support as possible.
Our petition has nearly 20,000 people around the globe that have committed to the Boycott.
And today we got off to an extremely promising start in our communities.
Thank you to everyone who's been working around the clock to get the foundations of this initiative in place.
Animal liberation will be achieved when the detriments of animal abuse outweigh the benefits!